Innovative Engineered Environmental Solutions for Sustainable Operations
At Soil & Dust Solutions, we're driven by the commitment to better our environment. Our engineered solutions are inspired by the need to do better because we can. We specialize in providing environmentally compliant and sustainable solutions tailored for mine haul and access roads, as well as mine tailings.
Are conventional practices in your business increasing carbon emissions? Utilizing bitumen or hydrocarbon-based products for surface seal and dust suppression may significantly raise your carbon footprint. Our solutions offer a smarter choice that minimizes emissions, reducing liabilities during closure while ensuring a more sustainable approach.
The future demands a different approach, especially with the ongoing climate change and the shift towards sustainability. We're here to assist mining operations and other clients in this shift, offering environmentally safe and sustainable solutions that effectively decrease carbon emissions. These solutions not only support reporting requirements but also demonstrate a crucial role in combatting climate change and promoting sustainability.
Soil & Dust Solutions is committed to supporting the goals of COP28. Our solutions aid businesses and governments in achieving net-zero targets by reducing greenhouse gas emissions and enhancing renewable energy output. Learn more about how our solutions align with the COP28 goals.

Soil & Dust Solutions provides Engineered Environmental Solutions for Green Road Construction to our clients as alternative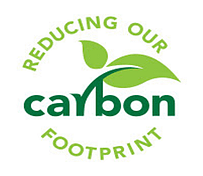 choices to the traditional bitumen, asphalt, and cement materials typically used in road construction, and which have non-sustainable and high environmental impacts.  Allowing for quantifiable water and CO2 and cost savings.
The elimination of the crushing, storage, transport and additional construction required when an imported aggregate material is required is substantial, the elimination or significant reduction of this allows reduced CO2 emissions and a reduced environmental impact. (ref: Centre for Sustainability (C4S) at TRL Limited, Taylor Technology, and Costain Limited.)
Eco-Friendly Gravel Road Sealing: Reduced Maintenance, Lower Environmental Impact
Sealing gravel roads yields substantial maintenance reductions, directly lowering environmental impact. This reduction translates into fewer operational equipment needs, decreased water usage, and improved air quality.
Soil & Dust Solutions offers holistic solutions that present smarter alternatives to historically used harmful hydrocarbon, bitumen, and lignosulfonate waste products. Our solutions provide better choices, emphasizing sustainability and significant cost savings derived from the long-term performance of the product.
By requiring only one application per year, our product outperforms traditional solutions that demand numerous daily applications. This single annual application not only ensures durability but also contributes to a considerable decrease in environmental impact and overall maintenance needs.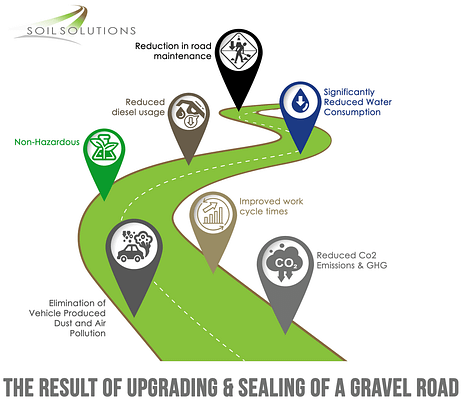 EBS Soil Stabilizer
Environmental Benefits 
significant water use reduction
reduction in CO2 as a direct result of decreased maintenance & operation of vehicles & equipment
will not leach into water tables
do not contain heavy hydrocarbons or petroleum residues
improved Air Quality and suppression of dust particles of PM10 and PM2.5  
adheres to the compliance regulations of the USA EPA safe for vegetation, fauna, and flora
safe for animals and wildlife
ONE LITRE OF DIESEL SAVED  =  2.63 KGS OF CO2 SAVED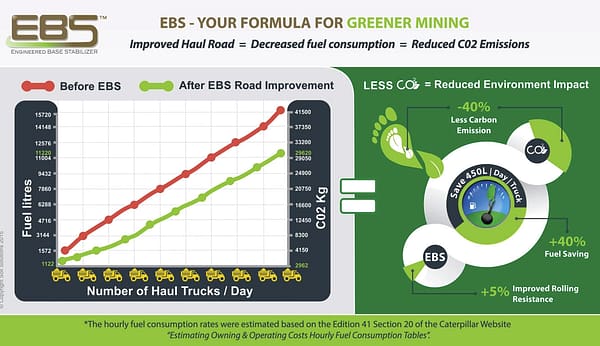 Embracing New Methods for Climate-Friendly Construction and Mining
For industries like construction, infrastructure, mining, and development, adopting new methods and technologies is critical to meeting the evolving standards required in our collective battle against climate change.
Implementing improved strategies allows companies to engage in triple bottom line actions: balancing corporate, social, and environmental responsibilities. Simultaneously, these decisions reduce future risks associated with evolving Carbon Cap and Tax policies, rapidly enforced by governments worldwide. Our approach prioritizes being SAFER, SMARTER, SIMPLER, and COST-EFFECTIVE.

Water Conservation
Water Neutrality is a global process of instilling water savings projects and initiatives that will offset the amount of water used.  A number of countries and regions have recently been listed by the United Nations as "water endangered", South Africa,  Namibia, Botswana, and Australia are amongst those listed.
In many areas where mining operations take place, there exist serious shortages of water supply, making the ability to conserve water usage critical, for which Soil & Dust Solutions provides a viable and effective solution.
IMAGINE THE WATER SAVINGS IF YOU STOPPED WATERING YOUR ROADS FOR DUST CONTROL.    That's right not reduced – stopped.  
How much water would you save?   
Contact us for a free evaluation to find out

Carbon Credits
Decarbonizing the mining industry is the front and centre of the climate change movement. More mining companies are making bold commitments to help fight climate change. With the introduction of Carbon Credits, these changes also have a positive spin-off.
Soil & Dust can assist in helping companies reach these goals. Through the use of sensors and data collection that is then analyzed and combined with AI and machine learning which will provide predictive models. See dAIta the Precision Decision subsidiary of Soil Solutions for more information.
This will allow for quantifiable accounting for CO2 and GHG which can then be used on blockchain and carbon credit platforms. This end-to-end system is integrated on ONE easy to use platform/dashboard.
ASSISTING  YOUR COMPANIES IN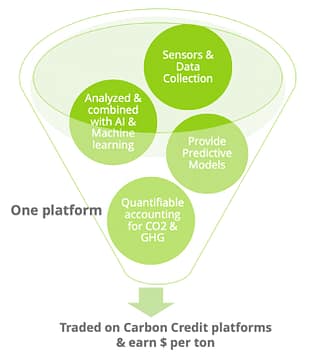 Reaching emissions targets
Identifying environmental exposures
Monitoring and reducing GHG emissions
Qualifying for carbon credits
Lowering your carbon footprint
ESG and SDG reporting
Avoid Green Washing
Alignment with COP26 goals
MMBI – Mining and Metals Blockchain Initiative
Ensuring traceability of resources from ground mine to market
End-to-end traceability and accountability
Environmental, social and governance reporting
Aligned with United Nations Sustainable Development Goals
As a partner of Soil Solutions, at Soil & Dust Solutions, our objectives and solutions align with the United Nations' 17 Sustainable Development Goals.
Our solutions are inherently sustainable and are continually developed to enhance sustainability by delivering a positive impact.
We are dedicated to creating a measurable and positive difference, taking pride in leaving both projects and local communities in significantly improved conditions.
How we do our business is also important to us,
Soil & Dust Solutions, as a proud partner of Soil Solutions, is an active member and signatory of the UN Global Compact. Our company's core values and principles champion the fundamental responsibilities encompassing human rights, labor, environmental stewardship, and anti-corruption measures.
The Ten Principles outlined by the UN Global Compact are deeply ingrained in our company's culture of integrity. They play a pivotal role, evident in the incorporation into our policies and strategies, ensuring our commitment to responsible and ethical practices.