Elevate Environmental Solutions for the Mining Industry
At Soil & Dust Solutions, we are committed to providing cutting-edge solutions for the mining industry, designed to be sustainable, environmentally compliant, and contribute significantly to water conservation and reduced CO2 emissions.
Building Sustainability through Environmental Solutions
In response to the global impact of climate change and the legislative initiatives emerging from commitments made at COP28, we have proactively developed environmentally safe and sustainable solutions. These solutions empower our clients to actively reduce their carbon emissions and minimize their environmental footprint.
COP28 Goals Implementation
Soil & Dust Solutions is dedicated to aligning our efforts with the goals set at COP28. Our solutions are strategically crafted to help businesses and governments achieve the net-zero objective by curbing GHG emissions and enhancing renewable energy output. Explore the ways in which our solutions contribute to the COP28 Goals.

Unlocking Environmental Advantages with EBS Soil Stabilizer
Soil & Dust Solutions proudly presents the Environmental Product Advantages of our EBS Soil Stabilizer, tailored for the mining sector. Our innovative solution offers a range of benefits:
Adaptable with In-Situ Soil: Seamlessly integrates with the existing soil on-site.
Significant Water Use Reduction: After application, experience noteworthy reductions in water consumption.
Environmentally Friendly: Does not leach into water tables or soil, ensuring environmental safety.
Petroleum-Residue Free: Devoid of heavy hydrocarbons or petroleum residues.
Dust Particle Suppression: Effectively suppresses dust particles, including PM10 and PM2.5.
EPA Compliance: Adheres to the regulations set by the United States Environmental Protection Agency (EPA).
Vegetation and Fauna Safety: Safe for surrounding vegetation, fauna, and flora.
Substantial Water Use Reduction: Allows for a considerable decrease in water usage.
In an era demanding adaptability and sustainability, the mining sector must embrace transformative methods. Our cost-effective solutions empower companies to navigate this shift, aligning with triple bottom line principles of corporate, social, and environmental responsibility. This not only positions them competitively but also mitigates future risks related to evolving Carbon Cap and Tax policies worldwide. Embrace a future that's SAFER, SMARTER, SIMPLER, and COST-EFFECTIVE with Soil & Dust Solutions.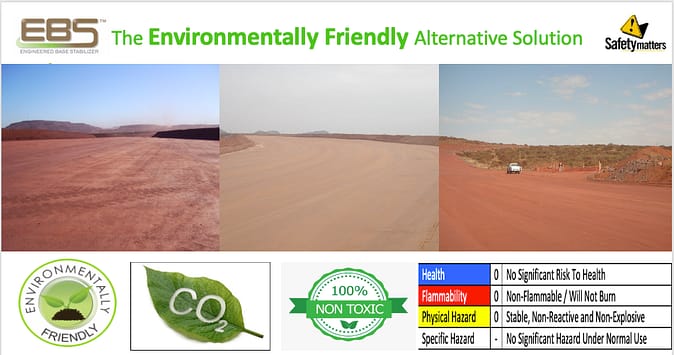 Water Conservation
Unlocking Water Neutrality: Revolutionizing Water Conservation in Mining Operations
Water Neutrality is a global imperative, aimed at implementing water-saving projects and initiatives that counterbalance water consumption. A critical call to action, particularly in regions labeled as "water endangered" by the United Nations, including South Africa, Namibia, Botswana, and Australia.
In mining areas grappling with severe water shortages, the need to conserve water becomes paramount. Soil & Dust Solutions presents a transformative solution that goes beyond reduction – it's about complete cessation.
IMAGINE THE WATER SAVINGS IF YOU STOPPED WATERING YOUR ROADS FOR DUST CONTROL. That's not merely a reduction; it's a complete cessation. Envision the substantial water conservation that could be achieved.
Join us in redefining water sustainability in mining operations. With Soil & Dust Solutions, embrace a solution that not only aligns with global water-saving goals but also positions your operation as a steward of water resources. It's time to revolutionize water conservation practices.
Contact us for a free evaluation to find out
Reduced Environmental Footprint through Engineered Environmental Solutions
Soil & Dust Solutions is at the forefront of environmentally efficient solutions, inspired by a commitment to reduce greenhouse gases and carbon emissions. Our equation for success:
Road Construction + Dust Suppression (SOIL & DUST SOLUTIONS) = CO2 Reduction
Road Construction
Proper Mine Haul Road construction yields a cascade of benefits:
Improved Work Cycle
Reduced Fleet Size
Increased Fuel Efficiency
Enhanced Skid Resistance
Reduced Rolling Resistance
Extended Tyre Life
Resulting in Reduced CO2 Emissions
Dust Suppression
Effective Dust Control leads to remarkable environmental gains:
Elimination of Constant Watering
Reduced Diesel Consumption
Significant Water Consumption Reduction
Decreased Vehicle Maintenance
Resulting in Reduced CO2 Emissions
We think Green means Green.
As Jeffrey R. Immelt, Chairman, and CEO of GE, rightly said, "This is a time period where environmental improvement is going to lead toward profitability."
Investing in our products for mine haul road construction and dust suppression is an investment not only in the environment but in:
Reducing CO2 Emissions
Increasing Efficiency
Boosting Production
Enhancing Profitability
ONE LITRE OF DIESEL SAVED = 2.63 KGS OF CO2 SAVED

Reducing Carbon Emissions in Mining: A Strategic Imperative
Globally, the mining industry is responsible for 65% of Greenhouse Gas Emissions. As the world's reliance on natural resources persists, integrating environmentally efficient practices into mining operations becomes crucial for curbing carbon emissions and mitigating the impact on global warming.
The implementation of Carbon Cap and Tax legislation is gaining momentum worldwide, and South Africa is set to formalize its regulations by 2012. Mining and industrial operations that proactively reduce carbon emissions position themselves to:
Avoid carbon tax for exceeding emission limits
Earn Carbon Credits
Soil & Dust Solutions presents a tangible opportunity for mining, construction, and industrial clients to achieve Carbon Emission Reduction (CER), translating into a substantially reduced environmental footprint and the potential to earn Carbon Credits. We not only provide Best Available Technology (BAT) but also offer the expertise to guide clients through the Clean Development Mechanism (CDM) process, providing technical and on-site assistance.
Clean Development Mechanism – CDM Project Overview
Reduced CO2 – CER through:
Reduced/Eliminated Diesel Consumption related to constant dust suppression and inferior road construction.
Methodology:
The reduction process aligns with defined methodologies under energy efficiency, particularly fuel switching, leading to a significant decrease in diesel consumption. For more detailed information, contact us.
Baseline:
Our product guarantees a substantial impact on the current baseline, with available models for demonstration.
Sustainability:
Reduced environmental impact
Dust suppression for reduced air pollution
Safer and healthier working environment
Worker re-deployment (no jobs lost)
Reduced operational costs
Significant water conservation
Additional Benefits:
Capital expenditure required
Utilization of Best Available Technology
Baseline and CER reduction levels not sensitive to sales volumes
A transformative shift from Business as Usual
We collaborate with industry leaders to develop a comprehensive data model for CO2 baseline assessments. Contact us for an appointment to assess and evaluate your operations. Material Data Safety Sheets, Environmental Toxicity Reports, and Aquatic Toxicity Reports are available upon request.

Carbon Emission Credits
Decarbonizing the mining industry is the front and centre of the big business climate change movement. More mining companies are making bold commitments to help fight climate change. With the introduction of Carbon Credits, these changes also have a positive spin-off.
Soil & Dust can assist in helping companies reach these goals. Through the use of sensors and data collection that is then analyzed and combined with AI and machine learning which will provide predictive models.
This will allow for quantifiable accounting for CO2 and GHG which can then be used on blockchain and carbon credit platforms. This end-to-end system is integrated on ONE easy to use platform/dashboard.
ASSISTING  YOUR COMPANIES IN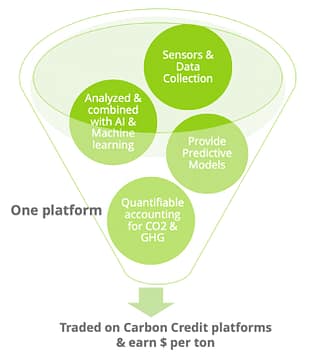 Reaching emissions targets
Identifying environmental exposures
Monitoring and reducing GHG emissions
Qualifying for carbon credits
Lowering your carbon footprint
ESG and SDG reporting
Avoid Green Washing
Alignment with COP26 goals
Mining and Blockchain Initiative
Ensuring traceability of emissions from mine to final product
End-to-end traceability
Environmental, social and governance requirements
Mine to market visibility and accountability